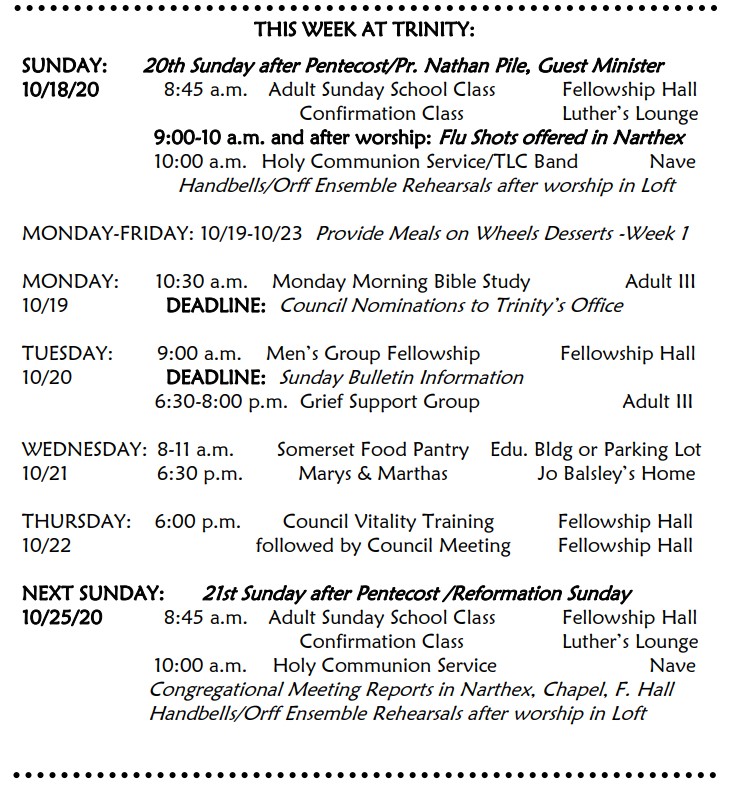 Halloween Organ Concert:
Friday, October 30—7:00 p.m. in the Nave with
Nicholas Carroll. (Please wear a mask and
practice social distancing.) Feel free to come in
costume! The concert will feature short readings
and organ music for the season.
A GRIEF SHARING SUPPORT GROUP is beginning to meet again on
Tuesday, October 6 at 6:30 p.m. in Adult III and every Tuesday through
November 17. It will be led by Jo Balsley and Pastor Doug Knupp. Anyone
experiencing the grief process after the death of a loved one is encouraged
to attend; friends are welcome, too. Let Ann in the Office know if you
plan to attend by calling 445-5446 (you don't have to attend all the sessions) so that materials are ready for each
person attending. The material and discussions have been
quite helpful to those attending in the past.
Pizza Hut Family Days Fundraisers are Monday, July 27, Sunday, September 27, and Sunday, November 15 for the WELCA Triennial Gathering at our Somerset Pizza Hut. Please find attached to this email pdf copies of the fundraiser flyers for your use for each of these dates.
On the day of the fundraiser, you just need to order your favorite Pizza Hut products and show them a paper or electronic copy of the flyer and Pizza Hut will donate 20% of your purchase back to Trinity for the WELCA Triennial Gathering (including take out!)