Wednesday, March 25, 2020, 7:00 pm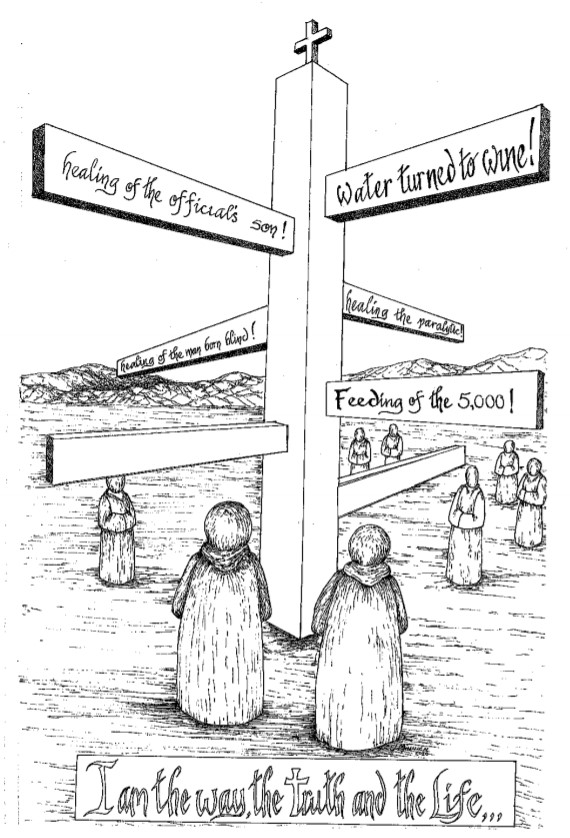 Bulletin art by John Minnich
Note Lyrics are in the youtube video description.
P: The grace of our Lord Jesus Christ the love of God , and the communion of the Holy Spirit be with you all.
C: And also with you.
C: on your lips and in your heart.
P: If you confess with your lips that Jesus is Lord,
C: and believe in your heart that God raised him from the dead, you will be saved.
P: Faith comes from what is heard,
C: and what is heard comes through the word of Christ.
Lyrics: Salvation belongs to our God and to Christ the Lamb forever and ever.
Great and wonderful are your deeds, O God of the universe;
just and true are your ways, O Ruler of all the nations.
Who can fail to honor you, Lord, and sing the glory of your name?
Salvation belongs to our God and to Christ the Lamb forever and ever.
For you alone are the Holy One. All nations will draw near and worship before you,
for your just and holy works have been revealed.
Salvation belongs to our God and to Christ the Lamb forever and ever.
First Lesson: 2 Kings 4:42-44
42 A man came from Baal-shalishah, bringing food from the first fruits to the man of God: twenty loaves of barley and fresh ears of grain in his sack. Elisha said, "Give it to the people and let them eat." 43 But his servant said, "How can I set this before a hundred people?" So he repeated, "Give it to the people and let them eat, for thus says the Lord, 'They shall eat and have some left.'" 44 He set it before them, they ate, and had some left, according to the word of the Lord.
10 All your works shall give thanks to you, O Lord,
and all your faithful shall bless you.
11 They shall speak of the glory of your kingdom,
and tell of your power,
12 to make known to all people your[a] mighty deeds,
and the glorious splendor of your[b] kingdom.
13 Your kingdom is an everlasting kingdom,
and your dominion endures throughout all generations.
The Lord is faithful in all his words,
and gracious in all his deeds.[c]
14 The Lord upholds all who are falling,
and raises up all who are bowed down.
15 The eyes of all look to you,
and you give them their food in due season.
16 You open your hand,
satisfying the desire of every living thing.
17 The Lord is just in all his ways,
and kind in all his doings.
18 The Lord is near to all who call on him,
to all who call on him in truth.
Second Lesson: Ephesians 3:14-21
14 For this reason I bow my knees before the Father, 15 from whom every family in heaven and on earth takes its name. 16 I pray that, according to the riches of his glory, he may grant that you may be strengthened in your inner being with power through his Spirit, 17 and that Christ may dwell in your hearts through faith, as you are being rooted and grounded in love. 18 I pray that you may have the power to comprehend, with all the saints, what is the breadth and length and height and depth, 19 and to know the love of Christ that surpasses knowledge, so that you may be filled with all the fullness of God.
20 Now to him who by the power at work within us is able to accomplish abundantly far more than all we can ask or imagine, 21 to him be glory in the church and in Christ Jesus to all generations, forever and ever. Amen.
Lyrics; Word of life, Jesus Christ, all glory to you!
Word of Life Jesus Christ, all praise to you!
Our hearts burn within us while you open to us your Scriptures.
Word of life, Jesus Christ, all glory to you!
Word of life, Jesus Christ, all praise to you!
Holy Gospel & Homily: John 6:1-15
P: In Christ, you have heard the word of truth, the gospel of your salvation.
C; We believe in him and are marked with the seal of the promised Holy Spirit
P: Living together in trust and hope, we confess our faith:
C:
P: Build yourself up on your most holy faith:
C; pray in the Holy Spirit
P: Keep yourselves in the love of God;
C: look forward to the mercy of our Lord Jesus Christ
P: If anyone is in Christ, there is a new creation;
C: Everything old has passed away;
behold, everything has become new!
P: God has given us the ministry of reconciliation.
Therefore, let us be reconciled to God and to one another.
The peace of Christ be with you.
Go forth into the world to serve god with gladness;
be of good courage;
hold fast to that which is good; render to no one evil for evil;
strengthen the fainthearted; support the weak;
help the afflicted;
honor all people;
love and serve god;
rejoicing in the power of the holy spirit.
thanks be to God.
One License #A-713909. All pieces are property of their respective copyright holder. Do not reproduce any part of this service.