March 22, 2020- Fourth Sunday in Lent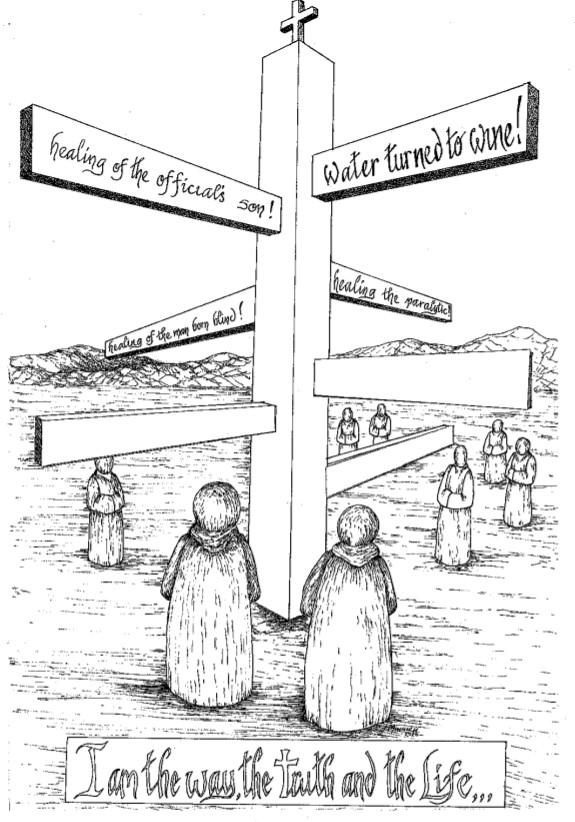 Bulletin Art by John Minnich
Invocation


P: Blessed be the Holy Trinity, +one God, who is present,




who gives life, who calls into existence the things that




do not exist.
C: Amen

The peace of the Lord be with you.
(note if you'd like to be able to read the lyrics while listening to the hymns be sure to right click the link and "open in a new tab" or "open in a new window" so you can switch between youtube and this page.)
Lyrics: Longing for light, we wait in darkness
Longing for truth, we turn to You.
Make us Your own, Your holy people
Light for the world to see.
Refrain: Christ, be our light!
Shine in our hearts.
Shine through the darkness.
Christ, be our light!
Shine in Your church gathered today.
Longing for peace, our world is troubled
Longing for hope, many despair.
Your word alone has pow'r to save us.
Make us your living voice.
Longing for food, many are hungry
Longing for water, many still thirst.
Make us Your bread, broken for others
Shared until all are fed.
Longing for shelter, many are homeless
Longing for warmth, many are cold.
Make us Your building, sheltering others
Walls made of living stone.
Many the gift, many the people
Many the hearts that yearn to belong.
Let us be servants to one another
Making Your kingdom come.
Greeting and Response


P: The grace of our Lord Jesus Christ, the love of God, and the communion of the Holy Spirit be with you all.
First Lesson: 1 Samuel 16:1-13
16 The Lord said to Samuel, "How long will you grieve over Saul? I have rejected him from being king over Israel. Fill your horn with oil and set out; I will send you to Jesse the Bethlehemite, for I have provided for myself a king among his sons." 2 Samuel said, "How can I go? If Saul hears of it, he will kill me." And the Lord said, "Take a heifer with you, and say, 'I have come to sacrifice to the Lord.' 3 Invite Jesse to the sacrifice, and I will show you what you shall do; and you shall anoint for me the one whom I name to you." 4 Samuel did what the Lord commanded, and came to Bethlehem. The elders of the city came to meet him trembling, and said, "Do you come peaceably?" 5 He said, "Peaceably; I have come to sacrifice to the Lord; sanctify yourselves and come with me to the sacrifice." And he sanctified Jesse and his sons and invited them to the sacrifice.
6 When they came, he looked on Eliab and thought, "Surely the Lord's anointed is now before the Lord."[a] 7 But the Lord said to Samuel, "Do not look on his appearance or on the height of his stature, because I have rejected him; for the Lord does not see as mortals see; they look on the outward appearance, but the Lord looks on the heart." 8 Then Jesse called Abinadab, and made him pass before Samuel. He said, "Neither has the Lord chosen this one." 9 Then Jesse made Shammah pass by. And he said, "Neither has the Lord chosen this one." 10 Jesse made seven of his sons pass before Samuel, and Samuel said to Jesse, "The Lord has not chosen any of these." 11 Samuel said to Jesse, "Are all your sons here?" And he said, "There remains yet the youngest, but he is keeping the sheep." And Samuel said to Jesse, "Send and bring him; for we will not sit down until he comes here." 12 He sent and brought him in. Now he was ruddy, and had beautiful eyes, and was handsome. The Lord said, "Rise and anoint him; for this is the one." 13 Then Samuel took the horn of oil, and anointed him in the presence of his brothers; and the spirit of the Lord came mightily upon David from that day forward. Samuel then set out and went to Ramah.
Psalm: Psalm 23
1 The Lord is my shepherd, I shall not want.
2 He makes me lie down in green pastures;
he leads me beside still waters;[a]
3 he restores my soul.[b]
He leads me in right paths[c]
for his name's sake.
4 Even though I walk through the darkest valley,[d]
I fear no evil;
for you are with me;
your rod and your staff—
they comfort me.
5 You prepare a table before me
in the presence of my enemies;
you anoint my head with oil;
my cup overflows.
6 Surely[e] goodness and mercy[f] shall follow me
all the days of my life,
and I shall dwell in the house of the Lord
my whole life long.[g]
Second Lesson: Ephesians 5:8-14
8 For once you were darkness, but now in the Lord you are light. Live as children of light— 9 for the fruit of the light is found in all that is good and right and true. 10 Try to find out what is pleasing to the Lord. 11 Take no part in the unfruitful works of darkness, but instead expose them. 12 For it is shameful even to mention what such people do secretly; 13 but everything exposed by the light becomes visible, 14 for everything that becomes visible is light. Therefore it says,
"Sleeper, awake!
Rise from the dead,
and Christ will shine on you.
If you but trust in God to guide you
with gentle hand through all your ways,
you'll find that God is there beside you
when crosses come, in trying days.
Trust then in God's unchanging love;
build on the rock that will no move.
What gain is there in anxious weeping,
in helpless anger and distress?
If you are in your Savior's keeping,
in sorrow will He love you less?
For Christ who took for you a cross
will bring you safe through every loss.
The Lord our restless hearts is holding,
in peace and quietness content.
We rest in God's good will unfolding,
what wisdom from on high has sent.
God, who has chosen us by grace,
knows very well the fears we face.
Sing, pray, and keep God's ways unswerving,
offer your service faithfully.
Trust heaven's word; though undeserving,
you'll find God's promise true to be.
This is our confidence indeed:
God never fails in time of need.
Apostles' Creed


I believe in God, the Father almighty, creator of heaven
and earth.
I believe in Jesus Christ, God's only Son, our Lord, who was
conceived by the Holy Spirit, born of the virgin Mary,
suffered under Pontius Pilate, was crucified, died, and
was buried; he descended to the dead. On the third day
he rose again; he ascended into heaven, he is seated at
the right hand of the Father, and he will come to judge
the living and the dead.
I believe in the Holy Spirit, the holy catholic church, the
communion of saints, the forgiveness of sins, the
resurrection of the body, and the life everlasting. Amen
Lyrics:
I will come to you in the silence
I will lift you from all your fear
You will hear My voice
I claim you as My choice
Be still, and know I am near
I am hope for all who are hopeless
I am eyes for all who long to see
In the shadows of the night,
I will be your light
Come and rest in Me
Refrain:
Do not be afraid, I am with you
I have called you each by name
Come and follow Me
I will bring you home
I love you and you are mine
I am strength for all the despairing
Healing for the ones who dwell in shame
All the blind will see, the lame will all run free
And all will know My name
Refrain
I am the Word that leads all to freedom
I am the peace the world cannot give
I will call your name, embracing all your pain
Stand up, now, walk, and live
Refrain
Blessing
P: Now is the acceptable time. Now is the day of salvation.
Holy God, speaking, spoken, and inspiring, +bless you,
unbind you, and send you in love and in peace. C: Amen
Amazing Grace! How sweet the sound
That saved a wretch like me!
I once was lost, but now am found
Was blind, but now I see.
'Twas Grace that taught my heart to fear,
And Grace my fears relieved.
How precious did that Grace appear
The hour I first believed.
Through many dangers, toils, and snares
I have already come.
'Tis Grace hath brought me safe thus far
And Grace will lead me home.
The Lord has promised good to me.
His Word my hope secures.
He will my shield and portion be
As long as life endures.
When we've been there ten thousand years
Bright shining as the sun,
We've no less days to sing God's praise
Than when we'd first begun.
P: Go in peace. Share the good news.
C: Thanks be to God!
One License #A-713909. All pieces and liturgical portions are property of their respective copyright owners. Do not reproduce any part of this service.