December 24, 2020- The Nativity of Our Lord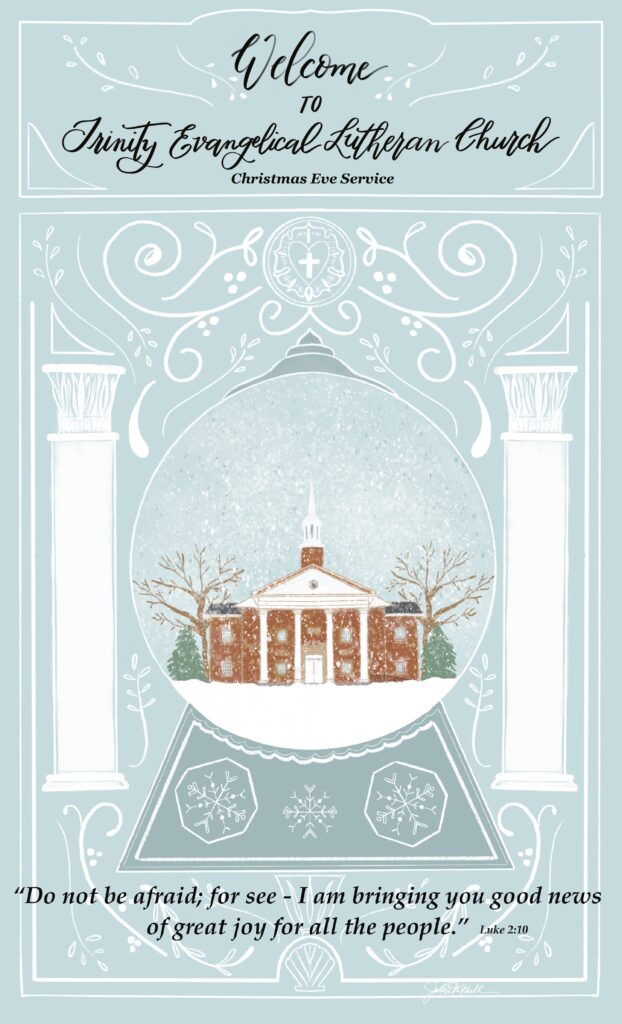 Special Christmas Eve artwork by Julie Mitchell
Welcome to Trinity's online Christmas Eve worship service! Please feel free to sing and pray along at home with the provided video. Christ is Born! Merry Christmas!
If you are able please consider an offering for God's work in the world: Tithely
Merry Christmas from our Worship Leaders who made this online service possible!
Nicholas Carroll, Director of Music
Join us "in spirit" by watching at 4:00 PM or 8:00 pm on December 24.
If there is issue playing the YouTube video the worship service video can be downloaded here. Note: it is a very large file (3GB) so download is only recommend if the YouTube video is not working:
Service Order
Preparation for Worship:
A Child's Lullaby by John Rutter
It Came Upon A Midnight Clear
Prelude: Hymn to Joy arr. Albert Travis
Gathering Carol:
O Come All Ye Faithful!
Invocation and Confession
Carol of Praise:
Angels We Have Heard On High – Musicians from the Association of Lutheran Church Musicians. Our Own Nicholas Carroll is a featured accompanist in this virtual choir!
Prayer of the Day
Gospel Acclamation:
Hark! The Herald Angels Sing
Gospel and Sermon: Luke 2:1-20
Carol of the Day: O Little Town of Bethlehem
Carol:
What Child is This?
(Stephanie Carroll, Vocals; Instruments, Nicholas)
Candlelight Reading:
Isaiah 60:1-5a; 19-22
Carol of Light:
Silent Night (light a candle at home if you have one)
Reading: John 1:1-6
Sending Carol:
Joy to the World!
Dismissal
Postlude: Praise the Lord of Hosts! from "Christmas Or
atorio" by Camille Saint-Saens