December 20, 2020 – Advent IV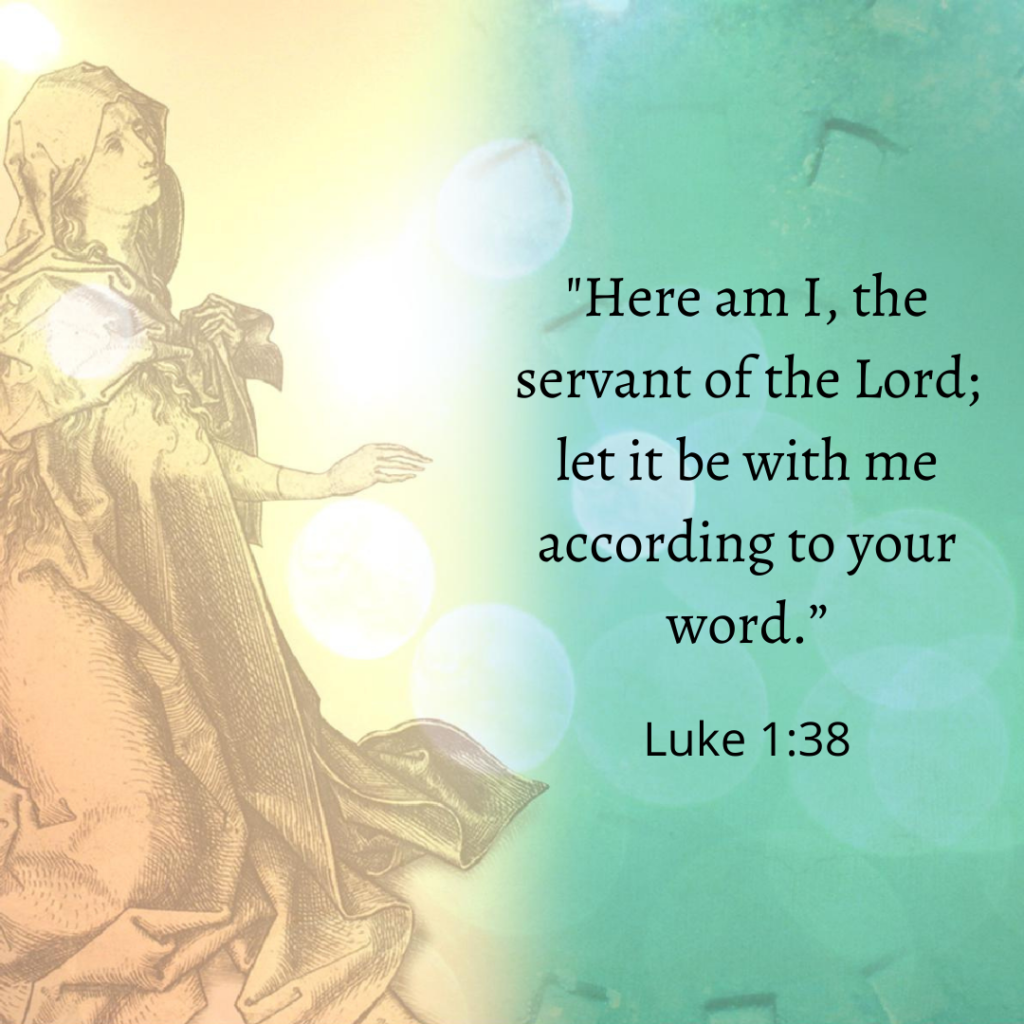 Welcome to Trinity's online worship service! The liturgy has been adapted for online use. We are so glad you chose to join us for virtual worship.
If you are able please consider an offering for God's work in the world: Tithely
1 My soul proclaims your greatness, Lord;

I sing my Savior's praise!

You looked upon my lowliness,

and I am full of grace.

Now ev'ry land and ev'ry age

this blessing shall proclaim—

great wonders you have done for me,

and holy is your name.

2 To all who live in holy fear

your mercy ever flows.

With mighty arm you dash the proud,

their scheming hearts expose.

The ruthless you have cast aside,

the lowly throned instead;

the hungry filled with all good things,

the rich sent off unfed.

3 To Israel, your servant blest,

your help is ever sure;

the promise to our parents made

their children will secure.

Sing glory to the Holy One,

give honor to the Word,

and praise the Pow'r of the Most High,

one God, by all adored.
1 Light one candle to watch for Messiah:
let the light banish darkness.
He shall bring salvation to Israel,
God fulfills the promise.


2 Light two candles to watch for Messiah:
let the light banish darkness.
He shall feed the flock like a shepherd,
gently lead them homeward.

3 Light three candles to watch for Messiah:

let the light banish darkness.

Lift your heads and lift high the gateway

4 Light four candles to watch for Messiah:
let the light banish darkness.
He is coming, tell the glad tidings.
Let your lights be shining!
First Lesson: 2 Samuel 7:1-11, 16
Psalmody: Luke 1:46b-55; refrain, Luke 1:52
Second Lesson
: Romans 16:25-27
1 The angel Gabriel from heaven came,
with wings as drifted snow, with eyes as flame:
"All hail to thee, O lowly maiden Mary,
most highly favored lady." Gloria!


2 "For know a blessed mother thou shalt be,
all generations laud and honor thee;
thy son shall be Emmanuel, by seers foretold,
most highly favored lady." Gloria!


3 Then gentle Mary meekly bowed her head;
"To me be as it pleaseth God," she said.
"My soul shall laud and magnify God's holy name."
Most highly favored lady, Gloria!


4 Of her, Emmanuel, the Christ, was born
in Bethlehem all on a Christmas morn,
and Christian folk throughout the world will ever say:
"Most highly favored lady." Gloria!
1 All earth is hopeful the Savior comes at last!
Furrows lie open for God's creative task:
this, the labor of people who struggle to see
how God's truth and justice set ev'rybody free.


2 People of Israel, you heard the prophet tell:
"A virgin mother will bear Emmanuel";
she conceived him, "God with us," our brother, whose birth
restores hope and courage to children of this earth.


3 Mountains and valleys will have to be prepared;
new highways opened, new protocols declared.
Almost here! God is nearing, in beauty and grace!
All clear ev'ry gateway, in haste, come out in haste!


4 We first saw Jesus a baby in a crib.
This same Lord Jesus today has come to live
in our world; he is present, in neighbors we see
our Jesus is with us, and ever sets us free.