Wednesday, April 1, 2020- 7:00 PM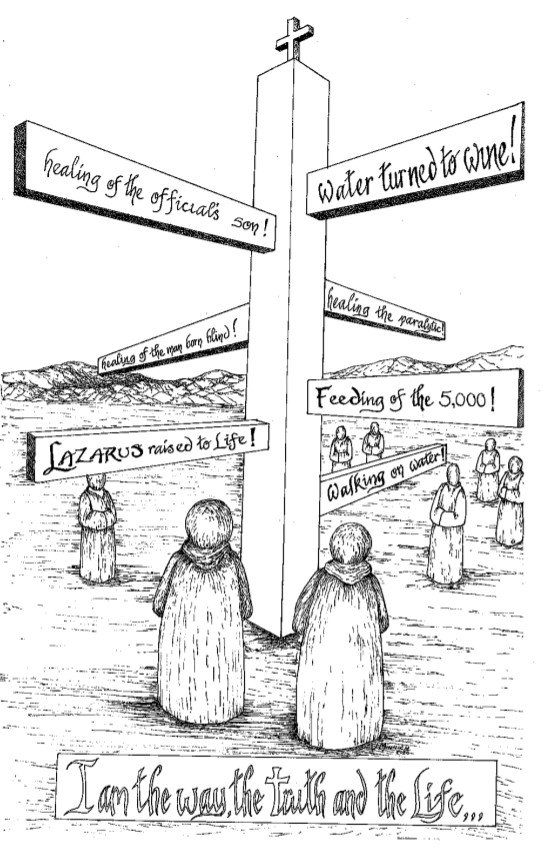 Bulletin Art by John Minnich
Note Lyrics are in the youtube video description.
P: The grace of our Lord Jesus Christ the love of God , and the communion of the Holy Spirit be with you all.
C: And also with you.
C: on your lips and in your heart.
P: If you confess with your lips that Jesus is Lord,
C: and believe in your heart that God raised him from the dead, you will be saved.
P: Faith comes from what is heard,
C: and what is heard comes through the word of Christ.
Lyrics: Salvation belongs to our God and to Christ the Lamb forever and ever.
Great and wonderful are your deeds, O God of the universe;
just and true are your ways, O Ruler of all the nations.
Who can fail to honor you, Lord, and sing the glory of your name?
Salvation belongs to our God and to Christ the Lamb forever and ever.
For you alone are the Holy One. All nations will draw near and worship before you,
for your just and holy works have been revealed.
Salvation belongs to our God and to Christ the Lamb forever and ever.
First Lesson: Jonah 1:1-17
1 Now the word of the Lord came to Jonah son of Amittai, saying, 2 "Go at once to Nineveh, that great city, and cry out against it; for their wickedness has come up before me." 3 But Jonah set out to flee to Tarshish from the presence of the Lord. He went down to Joppa and found a ship going to Tarshish; so he paid his fare and went on board, to go with them to Tarshish, away from the presence of the Lord.
4 But the Lord hurled a great wind upon the sea, and such a mighty storm came upon the sea that the ship threatened to break up. 5 Then the mariners were afraid, and each cried to his god. They threw the cargo that was in the ship into the sea, to lighten it for them. Jonah, meanwhile, had gone down into the hold of the ship and had lain down, and was fast asleep. 6 The captain came and said to him, "What are you doing sound asleep? Get up, call on your god! Perhaps the god will spare us a thought so that we do not perish."
7 The sailors[a] said to one another, "Come, let us cast lots, so that we may know on whose account this calamity has come upon us." So they cast lots, and the lot fell on Jonah. 8 Then they said to him, "Tell us why this calamity has come upon us. What is your occupation? Where do you come from? What is your country? And of what people are you?" 9 "I am a Hebrew," he replied. "I worship the Lord, the God of heaven, who made the sea and the dry land." 10 Then the men were even more afraid, and said to him, "What is this that you have done!" For the men knew that he was fleeing from the presence of the Lord, because he had told them so.
11 Then they said to him, "What shall we do to you, that the sea may quiet down for us?" For the sea was growing more and more tempestuous. 12 He said to them, "Pick me up and throw me into the sea; then the sea will quiet down for you; for I know it is because of me that this great storm has come upon you." 13 Nevertheless the men rowed hard to bring the ship back to land, but they could not, for the sea grew more and more stormy against them. 14 Then they cried out to the Lord, "Please, O Lord, we pray, do not let us perish on account of this man's life. Do not make us guilty of innocent blood; for you, O Lord, have done as it pleased you." 15 So they picked Jonah up and threw him into the sea; and the sea ceased from its raging. 16 Then the men feared the Lord even more, and they offered a sacrifice to the Lord and made vows.
17 [b] But the Lord provided a large fish to swallow up Jonah; and Jonah was in the belly of the fish three days and three nights.
Psalm: Psalm 107:23-30


23 Some went down to the sea in ships,




doing business on the mighty waters;




24 they saw the deeds of the Lord,




his wondrous works in the deep.




25 For he commanded and raised the stormy wind,




which lifted up the waves of the sea.




26 They mounted up to heaven, they went down to the depths;




their courage melted away in their calamity;




27 they reeled and staggered like drunkards,




and were at their wits' end.




28 Then they cried to the Lord in their trouble,




and he brought them out from their distress;




29 he made the storm be still,




and the waves of the sea were hushed.




30 Then they were glad because they had quiet,




and he brought them to their desired haven.
Second Lesson: Ephesians 4:14-24
14 We must no longer be children, tossed to and fro and blown about by every wind of doctrine, by people's trickery, by their craftiness in deceitful scheming. 15 But speaking the truth in love, we must grow up in every way into him who is the head, into Christ, 16 from whom the whole body, joined and knit together by every ligament with which it is equipped, as each part is working properly, promotes the body's growth in building itself up in love.
The Old Life and the New
17 Now this I affirm and insist on in the Lord: you must no longer live as the Gentiles live, in the futility of their minds. 18 They are darkened in their understanding, alienated from the life of God because of their ignorance and hardness of heart. 19 They have lost all sensitivity and have abandoned themselves to licentiousness, greedy to practice every kind of impurity. 20 That is not the way you learned Christ! 21 For surely you have heard about him and were taught in him, as truth is in Jesus. 22 You were taught to put away your former way of life, your old self, corrupt and deluded by its lusts, 23 and to be renewed in the spirit of your minds, 24 and to clothe yourselves with the new self, created according to the likeness of God in true righteousness and holiness.
Lyrics; Word of life, Jesus Christ, all glory to you!
Word of Life Jesus Christ, all praise to you!
Our hearts burn within us while you open to us your Scriptures.
Word of life, Jesus Christ, all glory to you!
Word of life, Jesus Christ, all praise to you!
Holy Gospel & Homily: John 6:16-21
P: In Christ, you have heard the word of truth, the gospel of your salvation.
C; We believe in him and are marked with the seal of the promised Holy Spirit
P: Living together in trust and hope, we confess our faith:
C:
P: Build yourself up on your most holy faith:
C; pray in the Holy Spirit
P: Keep yourselves in the love of God;
C: look forward to the mercy of our Lord Jesus Christ
P: If anyone is in Christ, there is a new creation;
C: Everything old has passed away;
behold, everything has become new!
P: God has given us the ministry of reconciliation.
Therefore, let us be reconciled to God and to one another.
The peace of Christ be with you.
Go forth into the world to serve God with gladness;
be of good courage;
hold fast to that which is good; render to no one evil for evil;
strengthen the fainthearted; support the weak;
help the afflicted;
honor all people;
love and serve God;
rejoicing in the power of the holy spirit.
thanks be to God.
One License #A-713909. All pieces are property of their respective copyright holder. Do not reproduce any part of this service